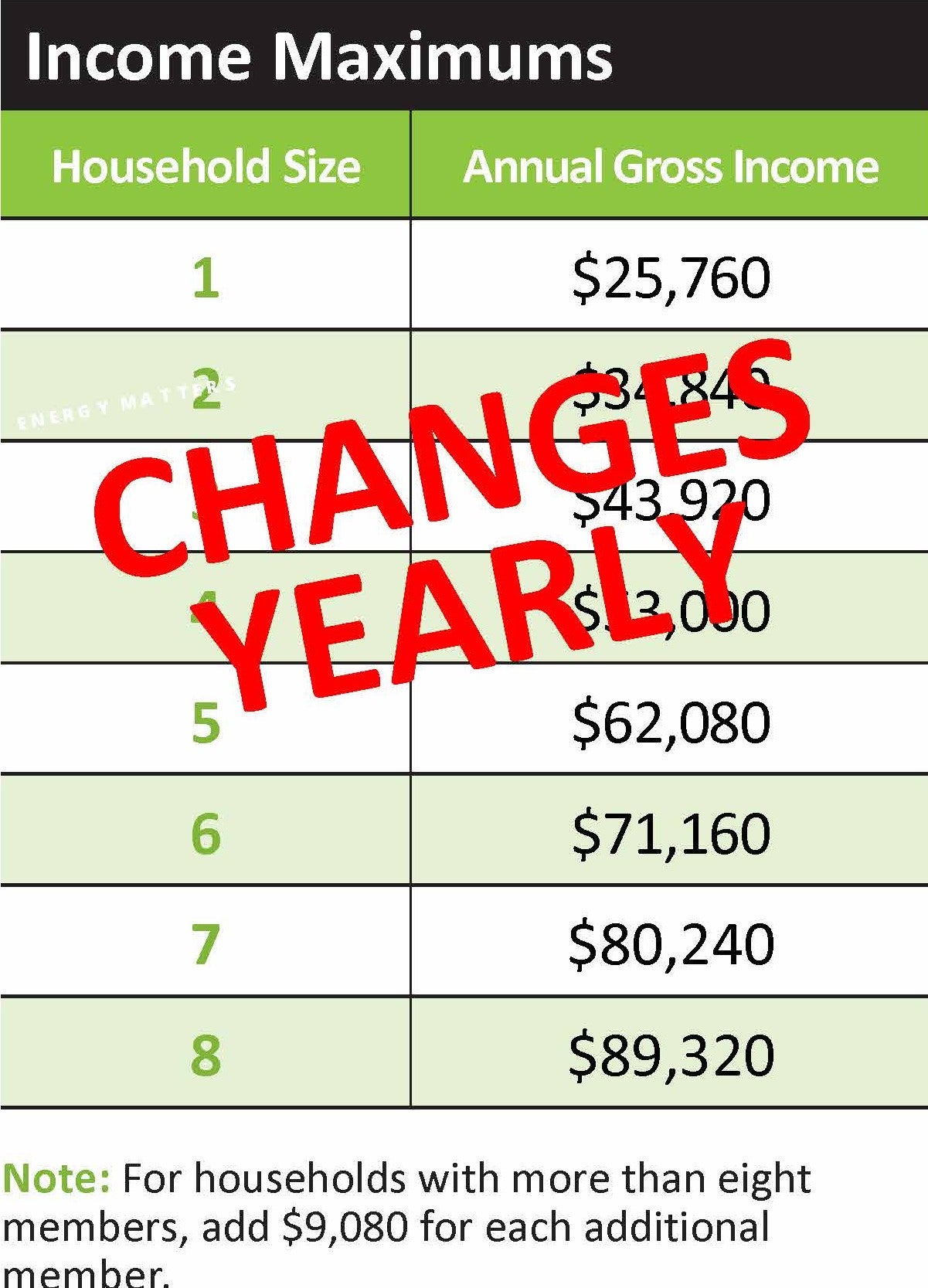 ATTENTION RESIDENTIAL CUSTOMERS: NEED HELP WITH YOUR HEATING BILL?
The Low-Income Home Energy Assistance Program (LIHEAP) has been established to help
qualifying low-income Iowa homeowners and renters pay for a portion of their primary heating
costs for the winter heating season. The assistance is based on household income, household 
size, type of fuel, and type of housing. 
WHEN TO APPLY:
Elderly (60 & over) and/or disabled
Beginning of October to the end of April in the following year.
All other households
Beginning of November to the end of April in the following year.
WHAT TO TAKE:
Proof of Income (for all household members age 19 and over) Depending upon your
household income type, income documentation from the past 30 days, the last
12 months, or last calendar year, whichever is easier or more beneficial for you.
Social Security numbers for all household members (documentation required)
Most recent heat bill
Most recent electric bill
WAGE EARNERS:
Please bring copies of your check stubs for the 30-day period preceding the date of application,
or a copy of your federal income tax return.
FIXED INCOME:
This income may include: Social Security Benefits, Supplemental Security Income, Family Investment Program,
Veteran's Assistance, Unemployment Insurance, and pensions. Please bring copies of your check stubs from the
previous 30 days.
SELF-EMPLOYED/FARMERS:
Please bring a copy of your most recent federal income tax return.
FIP RECIPIENTS:
Please bring your current DHS Notice of Decision or contact your local office for acceptance document information.
If you receive alimony or child support, it will also need to be verified. Additional income not listed here may be required.
Contact the local community action agency in your area listed below for help: 
Hawkeye Area Community Action Corporation (HACAP)
Delaware County: Manchester    563-927-4629
Dubuque County: Dubuque    563-556-5130
Jackson County: Maquoketa    563-652-5197
Jones County: Anamosa    319-462-4343
Linn County: Hiawatha    319-393-7811
Community Action of Eastern Iowa
Cedar County: Tipton        563-275-4315
Clinton County: Clinton        563-243-5220
Northeast Iowa Community Action Corporation
Clayton County: Decorah    563-382-8436
Operation Threshold
Buchanan County: Independence    319-334-6081