STRONG PRINCIPLES RUN THROUGH EVERY CO-OP LINE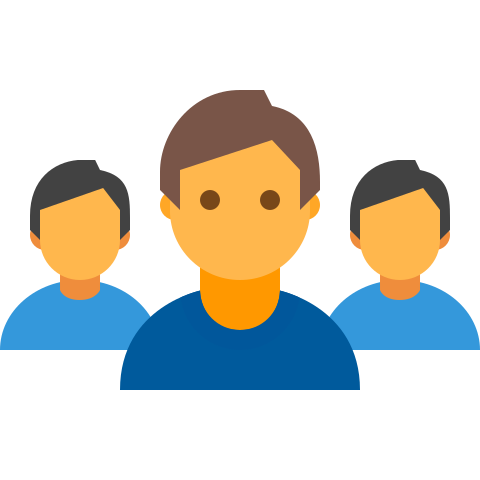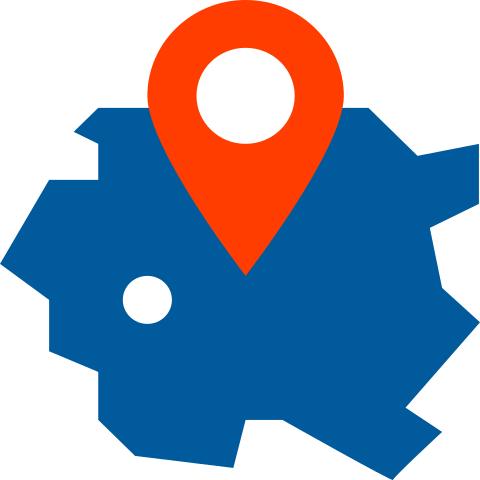 Welcome to Maquoketa Valley Electric Cooperative, where you're more than a customer, you're a member with an ownership interest in the company.
We are one of the largest electric cooperatives in the state, providing electric and internet/phone services to 14,000 members in nine east central Iowa counties.  With more than 80 years of experience serving local communities, we continue to provide 24/7 service that is safe, affordable, and reliable.
We add value to your membership by:
Ensuring electric service is available 99.998% of the time.

Providing electric service at cost

Deploying MVlink, a smart grid fiber network that connects electronic line equipment and substations to shorten power outages, while also offering you the highest internet speeds available in Iowa along with a quality Internet-based telephone service. 

Respecting the environment by delivering electricity generated emission and carbon-free resources.

Returning profits to you through capital credits. 

Operating locally with nine directors who are also members, hiring linemen who live in your neighborhood, and providing real people to talk to during business hours.

Supporting our communities through donations, sponsorships and  employee volunteer hours.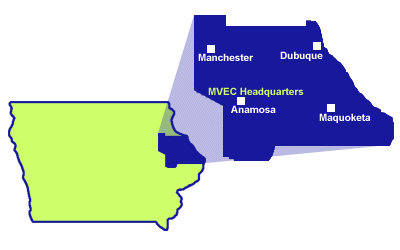 MVEC's Mission Statement: We will be the utility of choice by providing reliable, quality services in a safe, respectful, environmentally responsible and cost-effective manner that benefits our members' quality of life and promotes the success of their local communities.

MVEC's Values Statement: As Directors and Employees of MVEC, we value and will consistently demonstrate the highest degree of integrity and complete accountability for our decisions and interactions with each other, our members, and all others with whom we associate.
Safety
We will consistently promote a culture of safety for the protection of our employees, membership, and the general public.

Our Members
We will treat each member with respect and as an individual, balancing their needs with the needs of our members as a whole. We will always welcome our members' opinions and include their current and future needs in our plans, decisions and actions.

Our Employees
We will recognize employees as individuals and provide each with a safe, positive working environment with an opportunity for growth and success.

Open Communication
We will communicate and share information openly with our members and employees, with respect to confidential information.

Our Environment
We will show respect for our physical environment, striving to preserve it for the members and employees of tomorrow.

Innovation
We will utilize advanced technology and encourage innovative methods when cost-effective to enhance delivered services and quality of life.

Integrity
We will match our words with consistent actions. We will conduct our business with utmost integrity and ethics.

Accountability
We are accountable to our members and responsible for our actions. We will be fiscally responsible in conducting our business for our members.

Our Local Communities
We will care for our communities by supporting employee involvement and allocating resources to activities and projects that will enhance the quality of life for our members.
Maquoketa Valley Electric Cooperative (MVEC) is a cooperative organized as a not-for-profit utility. It does not sell stock and  is not under pressure to earn profits for absentee stockholders.
If MVEC collects more money than it needs to operate, it reinvests those margins into the system—keeping its need to borrow high-interest capital to a minimum. The board of directors determines when those margins are refunded – in the form of patronage dividends—to the people who paid for the electricity in the year the margin occurred.
Since cooperative rates are set by those who pay them, many states find no need to regulate those rates.
Electric cooperatives serve many rural, less-densely populated areas compared to other utilities. Providing electric service in these areas tends to be more difficult and costly than in urban areas.
All members share ownership of the Cooperative and have a voice in its operation.
Each member has one vote in the election of the Cooperative's board of directors and in any other decisions brought up at the Cooperative's annual meeting.
Directors of the Cooperative are also members, who serve without salary, except for a per diem and expenses to cover their out-of-pocket costs in serving the Cooperative. The board of directors hires a CEO to take charge of operating the Cooperative for the benefit of its members.
Voluntary and Open Membership
Membership in cooperatives is voluntary and open to all persons able to use their services and willing to accept the responsibilities of membership—without gender, social, racial, political or religious discrimination.
Democratic Member Control
Cooperatives are democratic organizations controlled by their members, who actively participate in setting policies and making decisions. Men and women serving as elected representatives are accountable to the membership. Members have equal voting rights—one member, one vote.
Members' Economic Participation
Members democratically control and equally contribute to the capital of their cooperative. Members may allocate surpluses for any of the following purposes: developing the cooperative; setting up reserves; benefiting members in proportion to their transactions with the cooperative; and supporting other activities approved by the membership.
Autonomy and Independence
Cooperatives are autonomous, self-help organizations controlled by their members. If they enter into agreements with other organizations or raise capital from external sources, they do so on terms that ensure democratic control by their members and maintain their cooperative's autonomy.
Education, Training and Information
Cooperatives provide education and training for their members, elected representatives, managers and employees. They inform the general public about the nature and benefits of cooperation.
Cooperation Among Cooperatives
Cooperatives serve their members most effectively and strengthen the cooperative movement by working together through local, national, regional and international organizations.
Concern for Community
While focusing on members' needs, cooperatives work to develop their communities by encouraging economic development, promoting education and advocating safe use of electricity.